HootBoard has an app available for Chrome OS that can boot into HootBoard's screen software. You can find it here. This allows you to use HootBoard's screen software with popular Google devices like the ChromeBox. (Buy one on Amazon).
Initial Device Setup
These steps will walk you through the initial setup of the Chromebit/Chromebox. Here's a link to a video that will walk through these steps too.
IMPORTANT - You need to ensure you DO NOT skip Step 4 to put the device in Automatic Kiosk mode. This must be done prior to logging into the device for the first time.
NOTE: If you have already logged into the Google device without first setting it up for automatic kiosk mode (See Step 4) we recommend wiping your device.
Follow the instructions in the Chromebit Quick Start guide to boot up the device. The device requires an HDMI port, power, WiFi and a keyboard/mouse for the initial setup.

After plugging in the Chromebit you will see the Welcome screen where you will be required to set your language, keyboard and network. Setup your device with the network that it will be running. Click Continue. http://about.hootboard.com/wp-content/uploads/2017/03/initial.jpeg

Next, you can review the Chrome OS Terms and Conditions. Click Accept and Continue.

IMPORTANT - DO NOT LOGIN YET. You will need to enter kiosk mode by pressing CTL + ALT + K. If you login, you will have to start over and wipe your device. If you successfully enter Kiosk Mode you will see the following screen:

After entering kiosk mode, you can now proceed by logging in or signing up for Google Account.

After logging in, you may need to adjust the TV display borders with the Chrome device if your TV borders are cut off. You can refer to this article to learn more.
HootBoard App Installation
Now that your device is setup, we will walk through installing HootBoard and configuring HootBoard to autolaunch whenever it is powered on.
7. Open up Chrome, and navigate to chrome://extensions
8. Check Developer Mode.
9. Click on Manage Kiosk Applications
10. In the Manage Kiosk Applications window, copy and paste the following Application ID: lninaieohimphmgofmpfajicfljlnpga Click Add.
11. Next setup the HootBoard app to auto-launch by clicking Set to Auto Launch
12. Click Done to complete the installation process.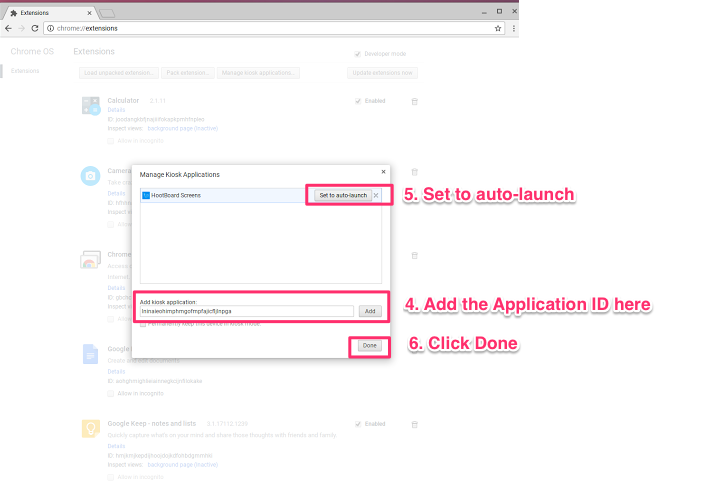 13. You can now restart your Chromebit.
14. When you reboot for the first time you will have to grant permission to the HootBoard app to auto-launch every single time on reboot. Click Confirm.
15. Next, you will be prompted to enter a HootBoard Screen Id. This Screen Id tells the device which content to show and allows you to manage the content from the cloud. To obtain a Screen Id you will need to follow the instructions here.NOTE: If you need to access Chrome OS desktop in future, you can hit CTL + ALT + S on reboot.